Lasagna Napoletana is La Gran Lasagna di Carnevale Napoletana
An appropriately distinguished full name for this feast day dish to enjoy on Sundays and for special celebrations. Essentially, it's party fare to relish at gatherings of family and friends. Once Lasagna Napoletana was associated with Mardi Gras. That's the last day of meat eating before the Catholic Lent fast begins. Hence "Carnevale" which literally translates as "meat is valid".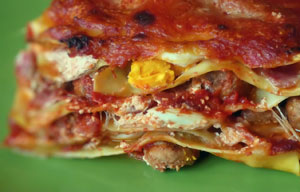 This recipe has three elements. (1) The Ragù recipe, which should be a classic Naples Ragù recipe. But made only with pork meats and sausages. (2) The Pasta recipe, ideally using durum wheat rippled Lasagna sheets. (3) The Filling recipe. That always includes little meatballs, ricotta and sliced hard boiled eggs. It also includes a grating cheese for the top. And either the fresh Naples sausages called "Cervellatine" or else spicy Napoli Salami, but never both. The Lasagna Napoletana recipe can also include sliced Mozzarella. Although it must be cows' milk labeled Fior di Latte. It must not be Mozzarella di Bufala. That's too watery to use in the recipe. You can play with these recipe elements. Then make your Lasagna Napoletana as you prefer adding more of this and less of that. You can omit the eggs. Or you can use a simple tomato sauce recipe instead of the classic ragù recipe. My advice is to keep the cheese elements of the recipe to a minimum. Cheese is very hard to digest. And this can also make this gloriously rich Lasagna Napoletana uncomfortably heavy.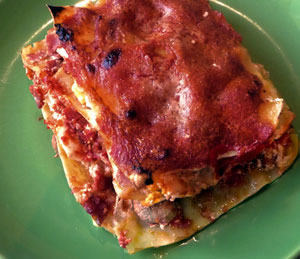 Lasagna improves with waiting. It likes time for the flavors to blend and the elements to settle. Some make the recipe a day or two ahead and reheat by covering and steaming. Others simply leave it to wait in the turned off oven. Sometimes for two, even three hours before serving. Lasagna Napoletana is best savored when eaten just warm, not hot.
What you need to make Lasagna Napoletana:
2 liters of Naples meat ragù slightly watered down. Make this recipe a day or two ahead
350 g Lasagna sheets, ideally with rippled edge. And absolutely not the pre-cooked kind
100g Pecorino Sardo or Parmigiano-Reggiano for the recipes cheese topping
For the Polpettine Recipe:
250 g very finely ground pork
50g crust-less dry bread soaked in milk
50 g Pecorino Sardo or Parmigiano-Reggiano cheese
1 egg
Evo for frying
You can make this recipe ahead. It will freeze well.
For the Lasagna Filling Recipe:
250 g Ricotta
250 g Fior di Latte Mozzarella
250 g either narrow fresh plain pork sausage or Naples Salami
3 eggs hardboiled and sliced
How you prepare for making the Lasagna Napoletana recipe:
Cook the Lasgana sheets 2 or 3 a time in plenty of salted boiling water. Dip each into cold water as soon as it is cooked al dente. Then place on clean kitchen towels to dry.
Grate the cheese into a bowl then break the egg into the same bowl.  Mix the two together. Then combine thoroughly with the crumbled soaked bread and the ground pork.
If your pork is very lean, add a tablespoonful or two of ricotta to the recipe mixture to soften it.
With water dampened hands shape into tiny spherical meatballs no bigger than a hazelnut (filbert).  Heat the olive oil in a wide skillet and fry the meatballs, rolling them round so they brown evenly.  Place on kitchen paper to absorb excess oil.
If using the Cervellatine sausages, cut in thin slices. Brown briefly in the pan where you cooked the meatballs.
If using the Napoli Salami, cut into small diced pieces.
Grate the cheese you will be reserving for the topping. That's Pecorino Sardo or Parmigiano-Reggiano.
Mix the ricotta in a bowl mashing out any lumps. Then add 3 or 4 tablespoonfuls of ragù. Blend  perfectly to a creamy consistency.
How you assemble Lasagna Napoletana:
This Lasagna Napoletana recipe calls for 5 layers of pasta and filling. So butter a rectangular baking dish that's deep enough.
Place a small amount of ragù on the bottom of the dish. Then cover the base completely with pasta squares. Avoid overlapping the pasta pieces but cut to fit instead.
Place a good layer of the ricotta cream as a bed. Then distribute a quarter of the meatballs, sliced egg, sliced Mozzarella, and either sausage or salami all over the ricotta. Top with ragù.
Repeat 3 times so you have 4 layers of pasta sheets, toppings and ragù.
Place the 5th layer of lasagna sheets on top of the last layer of filling. Top it with ragù. Then sprinkle the grated topping cheese over the whole surface.
How you bake and serve Lasagna Napoletana:
Cover the dish with foil and bake in an oven. Preheat to 375 ° for 25 minutes.  Turn the oven off and leave the Lasagna Napoletana covered. Have it wait in the turned off oven for two to three hours. At the end of that time remove the foil. Turn on overhead heat or broiler. Give the Lasagna 20 minutes to crisp and color the cheese on top.
Wait at least 20 minutes before serving lukewarm. That's the best temperature for fully savoring this culinary masterpiece!
You can bake and refrigerate then heat it up for eating the following day. You can also freeze the whole Lasagna unbaked.

Carmelita Caruana runs the Cook Italy Cooking School based in Bologna, Italy. An Italian food expert and culinary consultant, her writing has been featured in major British newspapers and food magazines. Carmelita has appeared on British TV and held classes in various U.S. cities.