Approach this legendary long and slow simmered Pasta Sauce – Ragù alla Napoletana – on bended knee.
It is the pride of the rich cuisine of Naples. And can move Neapolitans to tears! It's traditionally served over pasta. Pasta Sauce (Ragù alla Napoletana) origins lie among the upper middle classes, not the country folk. It's enriched with two kinds of meat. It is a dish for feast days and holidays. And for weddings and special occasions.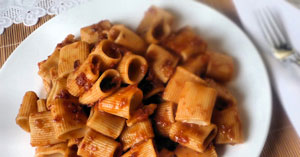 It may be further enriched with the addition of unseasoned butcher's knife-chopped pork sausages. And large beef and pork skin rolls bound up with string. After being filled with chopped parsley, garlic, pine nuts, raisins and cheese shavings. A truly magnificent feast!
Pasta Sauce – Ragù alla Napoletana!
(Makes pasta sauce and main course meats for 4-6)
2 lbs chuck roast in one piece, 12 oz meaty pork ribs, 7 oz thinly sliced salt cured Lardo or substitute Italian Pancetta or San Daniele cured ham to wrap the beef, ¼ cup e.v. olive oil,  1 ½ lbs sweet onions,  2 ½ cups red or white wine,  2 tbsp. tomato paste,  1 x 28 oz  can best peeled plum tomatoes, a bay leaf, salt and pepper, optional: a few sprigs of fresh basil.
Chop the onions quite small. They give body to the pasta sauce. But there should be no trace of them at all at in the finished meat sauce.
Wrap the beef all round in the Lardo or cured ham slices. That will baste the beef and enrich the pasta sauce. Tie tightly with string so that the beef holds its shape during cooking.
Put the contents of the can of peeled plum tomatoes through the food mill or a sieve. That eliminates any bits of peel and seeds and set aside.
In a deep heavy pot brown the meats lightly in the olive oil till well colored. Then deglaze with half a cup wine. Scrape up any tasty browned bits and stir to dissolve. Evaporate the wine on fairly high heat.
Add the chopped onions to the meats with the bay leaf. Season sparingly with salt and pepper. Cook covered on low heat for about an hour so that the onions soften and release all their juices.  Turn the meats from time to time.
Take the lid off and enjoy the aromas! Continue simmering on low heat for another hour or more. Do this until the onions are softened and lightly colored and their liquid evaporated.  Keep turning the meat and stirring the onions from time to time. Nothing should stick to the bottom. Deglaze a second time with half a cup wine wine. And this time let the wine evaporate slowly over low heat.
Add remaining wine, top up with a cup of water and continue to gently simmer uncovered. Turn meats and onions regularly and add water as needed.

If there isn't enough water the meats may not cook well, so best to be generous. You can always reduce the meat sauce later
After another hour has passed, or when the onions have wilted to a mush and there is only very little liquid, dilute the tomato paste in a little hot water and add to the pot of pasta sauce. Cook it for a few minutes to dry and darken it a little. Then add the sieved peeled plum tomatoes and a glass of water to the pasta sauce.
Bring to the boil, let bubble for a minute then turn down to low.  Simmer 30 minutes more before removing the pork ribs.  Cook for a further 60 minutes or until the beef is very tender but not quite falling apart.
Remove the beef and the bay leaf and leave the pasta sauce to reduce until it becomes shiny, dense and unctuous. At least 30 minutes.  Skim off any excess fat from the surface then taste and adjust seasoning.

Since this pasta sauce is best made a day ahead, you may also remove the fat the next day. By then it should have solidified, leaving just enough to give the pasta sauce a shimmering gleam.
Turn off the heat, and only in summer when basil is in season, plunge a few large sprigs of basil in the pasta sauce. This will impart its aromas. Remove the basil when you are ready to serve.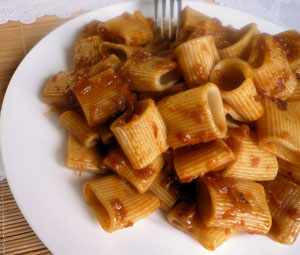 This sumptuous pasta sauce needs a good chunky pasta to do it justice.  Use it to crown a large format tube pasta like Paccheri, Rigatoni or Mezze Maniche. Never use pasta like Spaghetti or Fettuccine. The  meats you return to the pasta sauce to re-heat. Then you keep them warm while eating the pasta. And serve as the second course along with poached broccoli or other seasonal vegetables. But never eat potatoes after pasta.
To serve in the traditional manner: place about half the pasta sauce in a separate small pan. Keep both sauces warm while you cook about 2 ½ cups pasta very "al dente". The pasta is going to continue cooking while you toss and mix, while people are being served, and even on each diner's plate. As soon as the pasta is ready, drain the pasta and immediately mix with the pasta sauce in the original cooking pot. Pile the pasta sauce into a beautiful wide and shallow bowl and pour a couple of ladles of the extra sauce on top of the pasta. Place a chunk of good aged Pecorino or Parmigiano-Reggiano for diners to grate onto their plate, if they wish. Any extra pasta sauce may be placed in a small bowl with a ladle for diners to add to their pasta. Or else it may be diluted with some hot water and poured over the second course meats. Serve the pasta at once — to rounds of applause!

Carmelita Caruana runs the Cook Italy Cooking School based in Bologna, Italy. An Italian food expert and culinary consultant, her writing has been featured in major British newspapers and food magazines. Carmelita has appeared on British TV and held classes in various U.S. cities.