Lasagne Verdi alla Bolognese is a dish to approach with the reverence Italians show it. And at a moment when you have plenty of time to enjoy the process.
Lasagne is an absolute masterpiece of Italian cuisine. A dish you do properly or not all. That means a recipe with everything done from scratch. Anything else is not authentic. And not worth the name or the time.  Lasagne Verdi alla Bolognese is a dish/recipe for special occasions. To be made with love and care for your nearest and dearest. Knowing the patience and effort you invest will be richly rewarded!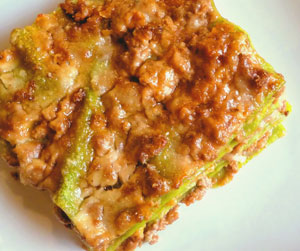 For the Pasta Recipe:
1 ½ cups cake flour, 2 eggs, ½ pound fresh spinach or ¼ pound frozen spinach
Dough recipe can be made the day before and kept in fridge in a plastic bag overnight. Bring to room temperature before rolling out on the pasta machine
If you can buy fresh pasta made only with fresh (not powdered) eggs and soft wheat flour, you need not make your own
For the Ragu Bolognese Recipe:
A stick of celery, a small onion, a small carrot: super finely minced
3 oz. fatty salt cured rolled pancetta, sliced very thin, then finely knife minced
½ lean beef, coarsely ground
½ lb fresh Italian pork sausages without fennel, chili or other spice
4 tbsp. good  passata (seedless, skinless tomato pulp)
2 tsbp. butter or olive oil
A small glass white or red wine
A small glass of milk, any kind
Nutmeg to grate
Lasagne is better made a day or two before. It can be frozen.
For the Béchamel Sauce:
3 ½ tbsp. flour
3 ½ tbsp. butter
1 pint milk
Salt and pepper
Optional: a fresh bay leaf, grated nutmeg
Lasagne can be made ahead, then covered with buttered paper and refrigerated.
For assembling:
4 tbsp. freshly grated Parmigiano-Reggiano (no substitutes please!)
¼ stick butter
1 tbsp. olive oil for the baking dish
The Ragu Recipe:
Soften all the finely minced vegetables in a wide shallow skillet. Cook over low heat till very soft in the fat. They must not color or fry so pour in 1 tbsp. of water from time to time to prevent that.  As they must not be visible in the final Bolognese sauce. It takes about 20 minutes in this stage.
Add the pancetta and soften adding 1 tbsp. water when needed as before.
When the pancetta is very soft, remove sausage from the casing and combine with the ground beef to the pan. Sauté thoroughly over moderate heat to evaporate the water but avoid browning or crumbling.
Pour in wine and allow to evaporate completely on low heat. Then combine milk and again allow to evaporate.
Add the tomato passata to colour just a little (real Bolognese is never ever red!).  Taste and season with salt (if needed), pepper and nutmeg.
Transfer the sauce from the skillet to a narrow deep and heavy bottom pot. Pour in half a cup of water and start the sauce on its long, slow gentle 3 1/2 hour simmer!
Stir the sauce regularly and pour in water as it reduces, but never more than a ladle of water at a time.
When the Ragu is almost ready the fat separates and you can either tip the pan a little so you can spoon most of it out. Or if making ahead you can remove the fat when it has cooled and solidified.
The Béchamel Recipe:
Place the milk over heat, with the bay leaf if using.
In a separate pan big enough to take the boiling milk, cook the flour and butter together on low heat to make the "roux".
When the milk comes to the boil, take both pans off the heat and add the milk all at once to the flour mix. Whisk vigorously to get a smooth thick lump free sacue.
Season with salt and nutmeg if using. Return to low heat for about 3 minutes to cook out any raw flour taste.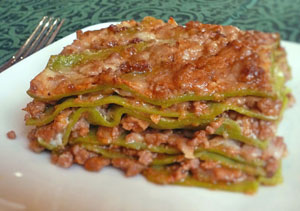 The Pasta Recipe:
Cook the spinach, leave to cool. Squeeze as hard as you can to remove all water. Then whiz in a processor.
Make a well in the sifted flour and in the middle add the beaten eggs previously combined with the spinach.  Gently work into a dough. Knead 10 minutes or till the dough is smooth, elastic and fairly firm. Leave to rest at least 30 minutes in a plastic bag. Then roll out wide strips on the pasta machine and cut into 4 inch squares.
Bring a large pan of water to a boil.  Add salt and a little oil, then cook the just made lasagne 2 or 3 pieces at a time for about 2 minutes.
Remove squares and immediately plunge into cold water, then place on clean kitchen towels and pat dry.
Assembling the Lasagne:
Everyone has their own idea about how to layer the lasagne ingredients. This is just one way. In Bologna, very small amounts of ragù and bèchamel are used. So the lasagne is rich (but not "gloop-ey") and easy to digest.
Lightly oil a rectangular baking dish. On the bottom arrange a first layer of pasta.
Place a small amount of Ragu on this. Use the back of a spoon to spread it without worrying about covering every bit of the lasagne. Dab teaspoons of béchamel on top of the ragù. Then add another layer of lasagne noodles, a little Ragù, a little béchamel, a little Ragù, and so on.  It is nice to get 5 or 6 layers of thinly rolled lasagne noodles into your lasagne.
Finish dish with a layer of lasagne noodles. And this time swirl the Bologonese Ragù and Bechamel together. Then top with plenty of grated Parmigiano-Reggiano and dot with dabs of butter.
Bake lasagne covered at 325° F for 20 minutes and uncovered for another 10 minutes.
Leave lasagne to rest 10 minutes before serving directly from the baking dish.

Carmelita Caruana runs the Cook Italy Cooking School based in Bologna, Italy. An Italian food expert and culinary consultant, her writing has been featured in major British newspapers and food magazines. Carmelita has appeared on British TV and held classes in various U.S. cities.