Julie & Julia (Julia Child) & Pasta.  This is a short story about Julia Child, "La Gigantessa",  and her "Kentucky Wonder Pasta" moment with my mother Lucrezia.
As the crow flies the farm I grew up on is less than 6 miles up Massachusetts Avenue to Harvard Square, smack dab in the center of the People's Republic of Cambridge, Massachusetts.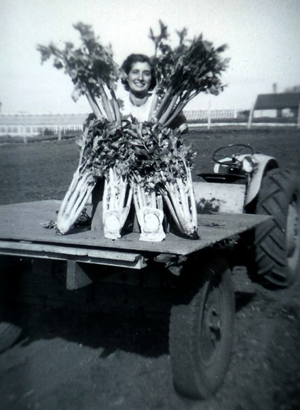 My father, Giuseppe ("Pippo") specialized in farming uncommon varieties of vegetables.  Many of the seeds originated in the sea side village we came from in Sicily. Most of his crops went to ethnic markets and restaurants in the Boston area.
We also had a farm stand which my mother Lucrezia ("Cicitta") ran with my Aunt Rosina.  It was chalk full of things you couldn't find anywhere else.  On most Sunday's, in season, the stand's parking lot overflowed onto the street.  Many customers were European and Asian immigrants, as well as African-Americans from Boston's inner city who truly appreciated the host of vegetables he prided himself in making available.  These were the foodies of that era, except they didn't know they were foodies; just people yearning for a taste of home.
It took Julia Child and the subsequent onslaught of television cooking programs to make many of these uncommon vegetables part of the average American diet.  By the mid-eighties the food and cooking phenomena in the U.S. had hit its stride.  Television cooking shows and food writing of every dimension ( howdy from The Pasta Channel !!!!! ) have now become an integral part of our lives.
Ms. Child was a Cambridge resident for many years.  She was also an occasional customer at our farm stand.   We had no idea who she was until her name became a household commodity in the late 60's.  Up until then she was known as "La Gigantessa" (The Giantess) as my mother called her.
Imagine a six foot two inch, Waspish woman, and a four foot eleven and one half inch, plumpish Sicilian woman, who spoke halting English, chattering away about the best uses for Kentucky Wonder String Beans.  That would have been my mother, Lucrezia, and Julia Child sometime around 1968.
My mother waved me over one day to interpret for them.  We still didn't know she was a cooking maven on our local public television station WGBH.  She wanted to be certain Julia, like all of our other customers she offered recipes to, was clear on the process for making Pasta with Kentucky Wonder String Beans topped with pan toasted, garlicky bread crumbs.
At the time I had little idea of the wealth of knowledge that was in front of me.  Not just Julia Child, but my mother, who cooked for a farm crew almost every day and would not repeat dishes for weeks at a time.
Here's Lucrezia's extraordinarily simple and simply delicious Pasta with Kentucky Wonder String Beans.
Pasta With String Beans – Serves 4
1lb. Kentucky Wonder or any other String Beans – with ends removed
Garlic – 3 medium cloves chopped very fine
Olive Oil
Sea Salt
Black Pepper
Dry Unseasoned Bread Crumbs – 2 cups
Pecorino Romano Cheese – grated
1lb. Spaghetti
In a large pan sauté a glove of garlic in two tablespoons olive oil.  Add the 2 cups of unseasoned bread crumbs, several pinches of salt and coarse black pepper, and shake or stir constantly over a medium heat until dark brown. Set aside to cool.
Boil the green beans in three quarts salted water for about four minutes.  Remove with a slotted spoon.  Do not rinse!!
In the same water, break the 1lb. of spaghetti in half, and cook until extra firm.
Brown two cloves of garlic in two tablespoons olive oil, add the string beans, stir, then add the pasta and toss well.
Top with Pecorino Romano and heaping amounts of the garlicky browned bread crumbs.  You will never forget this dish.
Written by Dino Romano, former Pasta Channel Italian Food Blogger, Italian Cook Extraordinaire,
Entrepreneur and Raconteur. Has taken Kyle Phillips (former Principle/Blogger for the About.com
Guide to Italian Food)
to task
on several supposedly "authentic" Italian recipes.