"Most Italians would pull a face at the very thought of spaghetti and meatballs. For at best this combination makes no sense."
Spaghetti and sauce should come together in one mouthful. And large meatballs, as well as Bolognese ragù, should slip and slide off the slippery cylindrical spaghetti.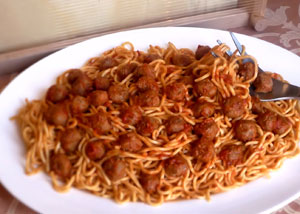 So where do spaghetti and meatballs come from? And what's the most authentic spaghetti and meatballs recipe out there? The answer is Abruzzo, Italy. And Carmelita Caruana's spaghetti and meatballs recipe at The Pasta Channel! 
In Abruzzo, the hand made Spaghetti alla Chitarra are not cylindrical. They're square in the cross section. The Chitarra (Italian for guitar) is a special kitchen tool. It has strings pulled tautly across a wooden frame. The spaghetti dough is rolled out as high as the space between the strings. Then it's cut on the Chitarra. They're about a dime and a half thick. And the meatballs, called "Pallotte" in dialect, are tiny. No bigger than a hazel nut (filbert). Made this way, this spaghetti and meatballs works. And the spaghetti, sauce and meatballs combine in a single tasty mouthful as they should.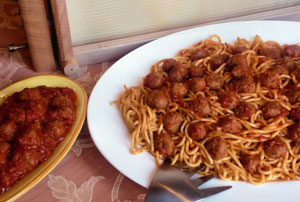 If you can buy packaged Spaghetti (alla Chitarra) for this spaghetti and meatballs recipe, great. If not, use Linguine. Or use your own dough recipe. And roll it out no thinner than the third setting on the pasta machine. And cut it into ribbons using the narrower setting. For this spaghetti and meatballs recipe, you really must keep the meatballs very small. Some would say no bigger than the finger nail on your little finger. That's the secret for coming close to the authentic original Abruzzo dish, "Maccherone con le Pallotte".  And this spaghetti and meatballs recipe gets very close to the original.
Here's the ingredients to make your own spaghetti dough for this recipe. 4 ½ cups semolina flour, 4 eggs, 1 tbsp of olive oil, and a little warm water. More if the dough needs it. Leave the dough to rest in a plastic bag for 30 minutes. And after cutting the noodles, place them on clean cloths. Then leave on a natural woven basket to dry for about an hour.
For the Spaghetti Sauce recipe you need:
a small onion and half a carrot very finely minced
a quarter onion pierced with two sweet cloves
1 tablespoon tomato paste
2 x 28oz cans Italian peeled plum tomatoes
a fresh bay leaf
a small fresh red chili
salt and pepper
3 tbsp. Evo
For special occasions, you can modify this spaghetti recipe. Cook diced lamb and crumbled pork sausage in the sauce for 2 to 3 hours.
For the Meatballs recipe you need:
7 oz finely ground lamb shoulder. Or half lamb and half pork or veal.
5 oz stale bread
milk to soak bread
3 ½ oz grated Pecorino Sardo or Parmigiano-Reggiano. Romano is too salty.
1 egg
fresh grated nutmeg to taste
olive oil for shallow frying
salt and pepper
Preparing the Spaghetti Sauce recipe:
Prepare the tomato paste by diluting it in ¼ cup of hot water.
For this recipe especially, put the contents of the cans of tomatoes through a food mill. This will eliminate seeds, peel and hard bits. Then discard anything left behind.
Heat the olive oil in a wide deep skillet. This is where you will later toss the cooked spaghetti.
Add the diluted tomato paste, the sliced chili and the fresh bay leaf. Fry for half a minute to darken the tomato paste as you stir and mix.
Add the sieved tomato passata. Stir to combine and season to taste with salt, pepper and nutmeg.
Turn the heat down and leave to simmer gently, uncovered. Simmer for at least an hour. 2 or 3 hours is even better.
Be sure to add small amounts of water. Otherwise the sauce reduces and thickens too much.
When you are ready to serve the sauce, taste and adjust seasoning.
In summer, prepare the spaghetti sauce recipe using fresh vine ripened tomatoes. The sauce recipe can be made ahead and frozen.
Preparing the Meatballs recipe:
Cut crusts off the bread and discard. Break the rest up into small pieces and soak in milk.
Beat the egg lightly with salt, pepper and nutmeg.
Place meat and grated cheese in a bowl.
For this meatballs recipe especially, make sure there are no hard bits left in the softened bread. Then add it to the bowl.
Tip the beaten egg in and mix everything well by hand. Force the meatballs mixture through your knuckles over and over.
Dip your hand in cold water. Take a teaspoon full sized amount of the meatballs mix and roll into tiny meatballs. For this meatballs recipe, sizing of meatballs is important.
Heat the olive oil in a wide shallow skillet. Then fry the meatballs on moderate heat for a few minutes. And roll the meatballs around so they brown evenly.
Season meatballs to your taste.
When the tomato sauce has been cooking for an hour, take about 1/3rd of it and place in a small pot over low heat.
Add the meatballs to the small pot. Then cook meatballs in the tomato sauce over low heat for 30 minutes.
To Serve the spaghetti and meatballs:
Cook the spaghetti al dente. That's critical in this spaghetti and meatballs recipe. Then scoop it up using a pasta fork or tongs. Place immediately in the skillet with the plain tomato sauce. Set over lowest possible heat.
Toss well to mix. If the sauce has reduced too much add a little of the pasta cooking water to loosen it.
Transfer spaghetti to individual plates. Or you could use a family style serving platter.
Top the sauce-dressed pasta with the little meatballs in their sauce and serve at once. Pass around the Pecorino Sardo or Romano cheese and the grater. Have everyone help themselves!

So, there you have it. The best and most authentic spaghetti and meatballs recipe on the web! Enjoy!

Carmelita Caruana runs the Cook Italy Cooking School based in Bologna, Italy.  An Italian food expert and culinary consultant, her writing has been featured in major British newspapers and food magazines. Carmelita has appeared on British TV and held classes in various U.S. cities.