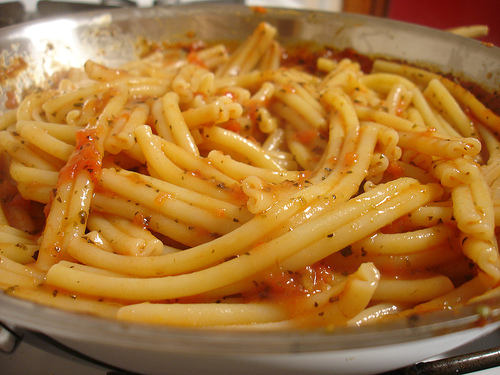 Pasta in Padella – those magic words!  The first step to perfect Pasta in Padella is to make sure it is cooked AL DENTE, or extra firm, never soft or soggy.
Step two, complete your Pasta in Padella, or literally, in the pan. This makes the difference between what you've been used to when you eat pasta and a whole new pasta experience.
Did I say "whole new pasta experience"?  Yes.  You were not mistaken. When you've tasted al dente pasta united with its sauce or flavor with the proper technique (In Padella) you will never, ever go back to a pile of flimsy, mushy soft pasta with a ladle of sauce plopped on top. NEVER.
Here's how easy it is to PPP – Prepare Pasta Properly.  Let's say you've prepared a classic sauce.  Fresh ripe tomatoes united with fresh garlic, well browned with olive oil, and completed, at the last second, with a copious amount of freshly chopped basil. When the pasta has reached its extra firm, AL DENTE texture, remove the water from the pasta immediately. Now, cover the bottom of the pan with a ladle or two of  sauce.  Once the water is removed form the pasta, but it's not completely dry, add the al dente pasta back to the pan which now has  sauce on the bottom. Put the pan back on a medium or high heat and toss the sauce and pasta vigorously for 60 seconds or so, like a tossed salad (ah, Pasta In Padella).  Add spoonfuls of  sauce until the pasta is covered on every surface and is moist but not soggy with sauce.  Plate and serve immediately.  As you do, add a large spoonful or ladle full of  sauce to the top of each dish. Top with grated Romano cheese and you will have your whole new experience – Pasta In Padella!
What happens when you complete this dish?   Two important items actually.  One, the sauce is absorbed because it has not been bloated with water.  Second, it will cook completely due to the short time that you mix these two together, to a slightly less firm texture and the resulting gluten will change the sauce to a creamy consistency which is unforgettable.
When you've tried this technique once it will become automatic. It works with any type of sauce from a fish broth to a vegetable primavera or a thicker cream sauce. The KEY IS to complete the process with the very sauce or flavor you've prepared. This maximizes the flavor as the sauce has literally been absorbed in preparation.  It also creates a texture that is sublime.
Written by Dino Romano, former Pasta Channel Italian Food Blogger, Italian Cook Extraordinaire,
Entrepreneur and Raconteur. Has taken Kyle Phillips (former Principle/Blogger for the About.com
Guide to Italian Food)
to task
on several supposedly "authentic" Italian recipes.